Who Is A Fool?
Part #1 The Existence of God
Pastor David L. Brown, Ph.D.
"See then that ye walk circumspectly, not as fools, but as wise,"

Ephesians 5:15
The common definition of a fool is -- One who does not exercise his reason; one who pursues a course contrary to the dictates of wisdom. However, our focus I not going to be on fools, by this definition. There are many wise people who are steeped in the worlds wisdom, and yet are fools biblically speaking.
I remind you that there are two sources of wisdom. There is wisdom from above (Gods wisdom) and wisdom from beneath (worldly or the devils wisdom) as noted in James 3:15-17.
In this message, I will be defining a fool from the biblical perspective. In the Bible, the term fool is often used for a sinful, wicked or immoral person who will not obey the commands of the Lord. The fool acts contrary to biblical wisdom in his choices and behavior. He follows his own inclinations and desires. The fool prefers to enjoy the immediate, insignificant pleasures of the here and now to obeying and serving the Lord and being rewarded in eternity.
Lets answer the question Who Is A Fool?
A Person Is A Fool Who Denies The Existence of God
Psalms 14:1 "The fool hath said in his heart, There is no God. They are corrupt, they have done abominable works, there is none that doeth good."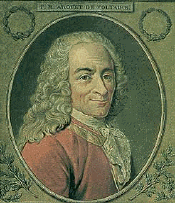 When I was at the University years ago, we studied the life and some of the writings of one Francois Marie Arouet. But, there are very few people who recognize him by that name. His pen name was Voltaire. He was born in 1694 and he died in 1778. He is considered by many to be Frances greatest writer and philosopher. I do not argue that he was an intellectual giant among men of his age. But, he was a fool biblically speaking, because he was an outspoken critic of the Bible and he did not believe in God. Further, he sought to debunk biblical salvation through Christ. He said, "It took centuries to build up Christianity, but, Ill show how one Frenchman can destroy it within 50 years." Then as one author wrote, "He took his pen, dipped it into the ink of unbelief and wrote against God."
In his later years (1759) Voltaire purchased an estate called "Ferney" near the French-Swiss border where he lived and wrote his Anti-God, Anti-Christ material. He was convinced that he could destroy Christianity and the Bible. He believed that people would become so enlightened that they would neither believe in God, the Bible or their need of Salvation through Jesus Christ.
When I think of Voltaires life, I think of 1 Corinthians 1:18-21 "For the preaching of the cross is to them that perish foolishness; but unto us which are saved it is the power of God. 19 For it is written, I will destroy the wisdom of the wise, and will bring to nothing the understanding of the prudent. 20 Where is the wise? where is the scribe? where is the disputer of this world? hath not God made foolish the wisdom of this world? 21 For after that in the wisdom of God the world by wisdom knew not God, it pleased God by the foolishness of preaching to save them that believe."
Here is why these verses are so fitting. First, Voltaire realized on his deathbed that he was going to Hell. He said, "I wish I had never been born." Then, just before he passed from this life he cried, "O Christ, O Jesus, I must die abandoned by God and men." His condition had become so frightful that his infidel associates were afraid to approach his bedside. After he has died his nurse said repeatedly, "For all the wealth in Europe I would never see another infidel die.
I am reminded of the words of the Apostle Peter who wrote "The Lord knoweth how to deliver the godly out of temptations, and to reserve the unjust unto the day of judgment to be punished:" 2 Peter 2:9
There is something else the about Voltaire you should know. Twenty years after his death the Geneva Bible Society bought his former home and used it for printing Bibles. It later became the headquarters for the British and Foreign Bible Society. This fool Frenchman made a vain boast. And now for eternity he shares the fate of all the fools who have rejected God.
Where do you stand this morning? Are you standing in the shoes of Voltaire? If you are, I urge you to repent and quit playing the fool.
Who Is A Fool?
Part #1 A person is a fool who denies the existence of God. Psalms 14:1
Part #2 A person is a fool who trusts in his own heart. Proverbs 28:26
Part #3 A person is a fool who despises wisdom and instruction. Proverbs 1:7
Part #4 A person is a fool who is quick-tempered. Ecc. 7:9; Proverbs 14:16-17
Part #5 A person is a fool who scoffs at sin. Proverbs 14:9; 10:23

E-mail: FirstBaptistChurchOC@gmail.com