Drinking At The Troubled Fountain and

The Corrupt Spring of Rome
Pastor David L. Brown, Ph.D.
Sermon Delivered 5/1/05
A righteous man falling down before the wicked is as a troubled fountain, and a corrupt spring. Proverbs 25:26; 1 Tim 4:1-3; Revelation 17:1-8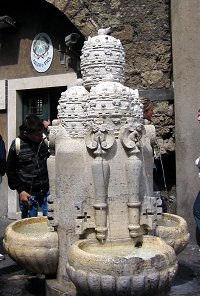 I have viewed with concern the political and religious leaders of our world drinking at the troubled fountain and corrupt spring of the Roman Catholic Church. Many political and spiritual leaders, who purport to be righteous and holy are "falling down" and worshipping at the altar of "the wicked," that is at the altar of Roman Catholicism. Why do I make such a strong statement? Consider this: Political and religious leaders came from all over the world to attend the funeral, of Karol Wojtyla, A.K.A. John Paul II, including President Bush and Laura, his wife, Secretary of State Condoleezza Rice, former presidents Clinton and George H.W. Bush. But, I should also point out that 22 members of congress attended! Wonder who paid for it? I'll give you three guesses and the first two don't count. The tax payer!
Then, on Larry King Live, King said to Billy Graham, "There is no question in your mind that he (John Paul II) is with God now?" Graham replied, "Oh no. There may be a question about my own, but I think Cardinal Wojtyla, or the Pope – I think he's with the Lord because believed." Is Billy correct? NO!
But what did Karol Wojtyla believe? In fact, John Paul II devoted his entire pontificate to Mary, crediting her with saving his life during a 1981 assasination attempt. He adopted the Latin phrase "Totus Tuus" (All Yours) to describe his devotion to her. In his last will and testament he wrote – "…this moment too I place into the hands of the Mother of My Master: Totus Tuus. In the same maternal hands I place All those with whom my life and vocation are bound. Into these Hands I leave above all the Church, and also my Nation and all humanity." Then, a little later in the document he writes, "I feel myself totally in the Hands of God - and I remain continually at the disposition of my Lord, entrusting myself to Him and to His Immaculate Mother (Totus Tuus)." (see Romans 12:1-2).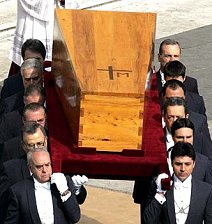 What's wrong with this picture? Karol Wojtyla, Pope John Paul II, believed that Mary was the co-redeemer with Christ! In fact, his casket, built by his orders, clearly reveals this belief. There is a large "M" engraved under the arm of the Cross of Christ. Further, he taught "Baptism "is necessary for salvation in fact or at least in intention, by which men and women are freed from their sins and are reborn as children of God, and configured to Christ…" (Canon 849, Code of Canon Law by the authority of Pope John Paul II).

Lest there be any doubt about this belief, let me point your attention to the picture that I took in Notre Dame Cathedral in Paris, which says, "The Baptistry and The Nativity – It is the day when the Child-God was born in Bethlehem. And it is the rebirth in the water of baptism where man is enabled to become the child of God."
If you want a real eye-opener, get a hold of and interview that Billy Graham did with the Lutheran Standard. In that interview he says, "We cannot fully understand the miracles of God, but I believe that a miracle can happen in these children so that they are regenerated, that is made a Christian, through infant baptism. If you want to call that baptismal regeneration, that's all right with me." It is obvious that Reverend Graham drank deeply from the troubled fountain and corrupt spring of Rome.
First, there is no record in the New Testament of any baby ever being baptized. Secondly, the New Testament clearly teaches believers baptism by immersion. Turn to Acts 8:36-38 "And as they went on their way, they came unto a certain water: and the eunuch said, See, here is water; what doth hinder me to be baptized? 37 And Philip said, If thou believest with all thine heart, thou mayest. And he answered and said, I believe that Jesus Christ is the Son of God. 38 And he commanded the chariot to stand still: and they went down both into the water, both Philip and the eunuch; and he baptized him."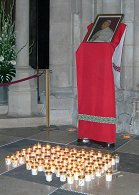 Karol went on to write, "Following my death I ask for Holy Masses and prayers." According to Catholic theology, that would indicate that John Paul II believed he would be in Purgatory and masses and prayers are for the purpose of gaining his release from that (mythical) place. The picture to the right are prayer candles that people have paid 5 Euros each to light, believing that this will have merit in gaining the former pope's release from Purgatory.
There is one more point I must make before I move on. That is from Canon 904, printed by authority of John Paul II – "Remembering that the work of redemption is continually accomplished in the mystery of the Eucharist Sacrifice, priests are to celebrate frequently."
While there is a call to canonize John Paul II, that is, to make him a "saint" according to Catholic Church dogma, I do not believe Karol Wojtyla was a saint biblically speaking. It is obvious that he believed in Mary as his co-redeemer, but turn to John 14:6 "Jesus saith unto him, I am the way, the truth, and the life: no man cometh unto the Father, but by me."
Karol Wojtyla believed that baptism makes a baby a child of God, but the Bible says, John 1:12 "But as many as received him [Jesus Christ], to them gave he power to become the sons of God, even to them that believe on his name:" Paul says in Galatians 3:26 "For ye are all the children of God by faith in Christ Jesus."
Finally, Jesus Christ died once for all. Hebrews 10:10 says, "By the which will we are sanctified through the offering of the body of Jesus Christ once for all." His death on the Cross, brings full redemption, eternal redemption for all who believe. Hebrews 9:12 "Neither by the blood of goats and calves, but by his own blood he entered in once into the holy place, having obtained eternal redemption for us."
My friends, many people are confused because their leaders, both religious and political have been drinking at the troubled fountain and corrupted spring of Roman Catholicism and they have not been drinking from the fountain of Christ's Living Water.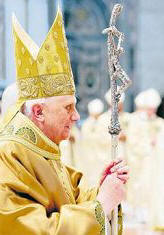 That brings me to Joseph Ratzinger – Pope Benedict XVI. Who attended his inauguration? Robert Shuler; Reps from Billy Graham, Salvation Army, Methodists, Lutherans, Reformed, Greek Orthodox, Anglicans, UN, Islam, Jeb Bush and more.
Who is this man who is called the "supreme pontiff" for the world's 1.2 billion Roman Catholics? In the German press, he has been called Rottweiler des Gottes or Gottes Rottweiler. The English translation is God's Rottweiler. Now, why would they call Joseph Ratzinger that? It is because for more than 20 years he was "Perfect of the Congregation for the Doctrine of the Faith." You might be wondering, so what? I wrote to a former Catholic priest and asked him about that office. The answer is very enlightening. Before the name "Congregation for the Doctrine of the Faith" the name was The Holy Office of The Inquisition. In fact, Joseph Ratzinger was the Chief Inquisitor of the Holy office of the Inquisition.
The inquisition began in 1208 A.D. when Pope Innocent III came to the throne. He called for a Crusade against the Bible believing Albigensians. A monk named Arnald lead the Crusade and in his report to Innocent III he wrote, "Today, your Holiness, twenty thousand citizens were put to the sword, regardless of age or sex." That was just the beginning of the slaughter. When Gregroy IX came to the papal throne he officially established the Inquisition and on July 27th 1233 two full time Inquisition leaders were appointed. One was Dominic, founder of the Dominican order. His followers were fierce hunters of Bible believers and earned the Latin name Domini Cannes which translated into English is God's Dogs. Now do you see why Pope Benedict XVI is called God's Rottweiler? He was the head of the Holy office of the Inquisition.
It is interesting to note that Joseph Ratzinger makes it clear that the Roman Catholic Church is only "instrument for the salvation of all humanity" (Dominus Iusus Para 22). Dogmatically also he rules out Evangelical Churches from being considered as, "Churches in the proper sense", when he proclaimed, "the ecclesial communities which have not preserved the valid Episcopate and the genuine and integral substance of the Eucharistic mystery, are not Churches in the proper sense." (Dominus Iusus Para 17). Friends, drink long from the well of Living Water in the Holy Bible and beware that you do not drink from the troubled fountain and corrupt spring of Rome which puts tradition over the Bible or give heed to religious leaders who have been drinking at that corrupted well. Colossians 2:8