The Christian Roots Of Our Republic
Pastor David L. Brown, Ph.D.

Sermon Delivered 7/6/03
The Bible and prayer have played an important role in our nation's history. Not many current day history books inform their readers of this fact or that this nation was founded upon what has been called the Judeo-Christian Ethic. And, if I were to walk up to people and ask them what the Judeo-Christian Ethic was, I would be surprised if I got a correct answer. For the record, the Judeo-Christian Ethic refers to the teachings and principles of the Old (Judeo) and New (Christian) Testaments.
I believe that America has been blessed because our nation was founded upon the teachings and principles of the Old and New Testaments. The Lord promises in Psalms 33:12 "Blessed is the nation whose God is the LORD; and the people whom he hath chosen for his own inheritance."
In this mornings message I will be sharing with you a few of the true stories that show the Christian Roots of Our Republic.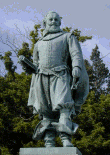 \To begin, I must take you back to Jamestown, Virginia, established on May 13, 1607 by 104 Englishmen, mostly Puritans. In September of 1608 Captain John Smith was elected Governor of the colony. As Governor, Smith saw that there was a major change that needed to be made if the colony would survive. Here's the problem. Many of the colonists were off doing their own thing, specifically searching for gold, instead of planting crops and hoeing their gardens. He instituted a new rule based on 2 Thessalonians 3:10. The verse says, "For even when we were with you, this we commanded you, that if any would not work, neither should he eat." Smith paraphrased it, "He who will not work shall not eat!" Indeed, that was a wise move! Though this "law" was unpopular at first, it did facilitate the survival and ultimately the expansion of the colony.
The Importance Of Diligence
I must tell you that one of the things that has made America great is the work ethic of her people. Even before man's fall into sin, he was charged with dressing and keeping God's Garden. There are three verses that I want to share with your about the importance of working diligently.
Ecclesiastes 9:10 "Whatsoever thy hand findeth to do, do it with thy might..."
Colossians 3:23 "And whatsoever ye do, do it heartily, as to the Lord, and not unto men;"
Proverbs 14:23 "In all labour there is profit…"
God blesses honest, diligent work! Laziness and irresponsibility bring poverty. We read in Proverbs 13:4 "The soul of the sluggard [idle; lazy person] desireth, and hath nothing: but the soul of the diligent shall be made fat [prosperous]."
If you will be successful, be diligent in all of your undertakings. Employers are looking for diligent workers!
On September 16, 1620 the Mayflower departed for the New World overloaded with 102 Pilgrims. Finally after more than 60 grueling days at sea, at 7 a.m. on November 19th the "Land-Ho" came from the crow's nest. All the Pilgrims gathered on deck and William Brewster led in the singing of Psalm 100 in meter. They prayed and thanked God for seeing them through the arduous voyage.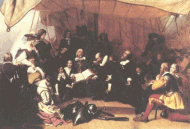 "Make a joyful noise unto the LORD, all ye lands. 2 Serve the LORD with gladness: come before his presence with singing. 3 Know ye that the LORD he is God: it is he that hath made us, and not we ourselves; we are his people, and the sheep of his pasture. 4 Enter into his gates with thanksgiving, and into his courts with praise: be thankful unto him, and bless his name. 5 For the LORD is good; his mercy is everlasting; and his truth endureth to all generations." Psalms 100
The words of the doxology are a good reminder for us… "Praise God from who all blessings flow."
If you ever get a chance, when you are in Washington D.C., to go to the Capitol; In the Rotunda area you can see the mural commemorating the Pilgrims coming to the New World.
The Importance Thankfulness
The Pilgrims knew what it was to be thankful to the Lord! Despite their hardships, they knew the truth of 1 Thessalonians 5:18 "In every thing give thanks: for this is the will of God in Christ Jesus concerning you." We need to follow the example of the Pilgrims and make known our thankfulness to the Lord.
Philadelphia Pennsylvania: The First Continental Congress
We have see that 2 Thessalonians 3:10 and Psalm 100 a part of our national heritage. But there is another Psalm that played an important part in the founding of our nation – Psalm 35. In September of 1774 the First Continental Congress was meeting at Carpenter's Hall in Philadelphia. They had invited Rev. Douche to open the session with a Scripture reading and then prayer. Below is a portion of that Psalm. Remember as you read the words that the colonies were in a struggle with Great Britain and moving closer to war by the day.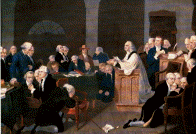 Psalms 35:1-9 "A Psalm of David. Plead my cause, O LORD, with them that strive with me: fight against them that fight against me. 2 Take hold of shield and buckler, and stand up for mine help. 3 Draw out also the spear, and stop the way against them that persecute me: say unto my soul, I am thy salvation. 4 Let them be confounded and put to shame that seek after my soul: let them be turned back and brought to confusion that devise my hurt. 5 Let them be as chaff before the wind: and let the angel of the LORD chase them. 6 Let their way be dark and slippery: and let the angel of the LORD persecute them. 7 For without cause have they hid for me their net in a pit, which without cause they have digged for my soul. 8 Let destruction come upon him at unawares; and let his net that he hath hid catch himself: into that very destruction let him fall. 9 And my soul shall be joyful in the LORD: it shall rejoice in his salvation."
John Adams wrote to his wife, "It seemed if Heaven had ordained that Psalm to be read on that morning." Further, when Rev. Douche lead in prayer the historian says it brought tears to the eyes of every man present.
May I make an observation? Our forefathers wanted God's aid and blessing on this nation! I believe that we as Americans should follow the pattern of our Founding Fathers and regularly read the Bible and pray to our Lord for Wisdom, Guidance and Protection.
Philadelphia Pennsylvania: Independence Hall
I would be surprised if there was anyone here who did not know of the Liberty Bell. It was purchased in 1751 to commemorate the 50th Anniversery of William Penn's 1701 Charter of privileges. Pennsylvania's original Constitution speaks of the rights and freedoms valued by people all over the world. Inscribed on that bell are words from Leviticus 25:10 "Proclaim Liberty throughout all the land unto all the inhabitants thereof." How fitting it was for the Liberty Bell to be rung on July 8th, 1776 from the tower of the Pennsylvania State House, summoning citizens to hear the first public reading of the Declaration of Independence.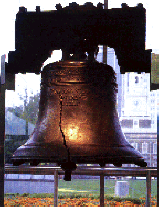 I am thankful God has entrusted us the freedoms that we have in this country. However, I see our freedoms eroding as our citizens move away from the God of the Bible and His teaching. Benjamin Franklin hit the nail on the head when he gave a speech to the delegates of the Constitutional Convention on Thursday, June 28, 1787. He said…
"We have been assured, Sir, in the Sacred Writings that 'except the Lord build the house, they labor in vain that build it.' I firmly believe this; and I also believe that without His concurring aid, we shall succeed in this political undertaking no better than the builders of Babel."
The Bible passage Franklin quoted was Psalm 127:1
Our Founding Fathers knew the importance of reading the Bible, following its principles and praying for the Lord's wisdom, guidance and protection. The final example that I offer you in this message is…
George Washington Taking The Oath of Office
On April 30, 1789 the first President of the United States, George Washington took the oath of office. He asked that the Bible be opened to Deuteronomy 28. Do you know that content of that chapter? God promises blessings for obeying his Word, and cursing or judgment if God's Word is disobeyed.
I for one, want to see God's blessing continue on our Nation and I am therefore resolved to incorporate the Bible, its teachings and Prayer into my daily life to give Him a reason to bless me, my family and our nation.
Let me review the Scriptures that have had a part in the foundation of our nation…
2 Thessalonians 3:10

Psalm 100

Psalm 35

Psalm 127:1

Deuteronomy 28
Saint Paul said, "For other foundation can no man lay than that is laid, which is Jesus Christ." 1 Corinthians 3:11 Is your life founded on Jesus Christ? J
John 3:16-18 "For God so loved the world, that he gave his only begotten Son, that whosoever believeth in him should not perish, but have everlasting life. 17 For God sent not his Son into the world to condemn the world; but that the world through him might be saved. 18 He that believeth on him is not condemned: but he that believeth not is condemned already, because he hath not believed in the name of the only begotten Son of God."
If you have never received Jesus Christ as your personal Savior, I would urge you to call on his name this very moment and ask Him to forgive your sins and save your soul.