One Nation Under God
Pastor David L. Brown, Ph.D.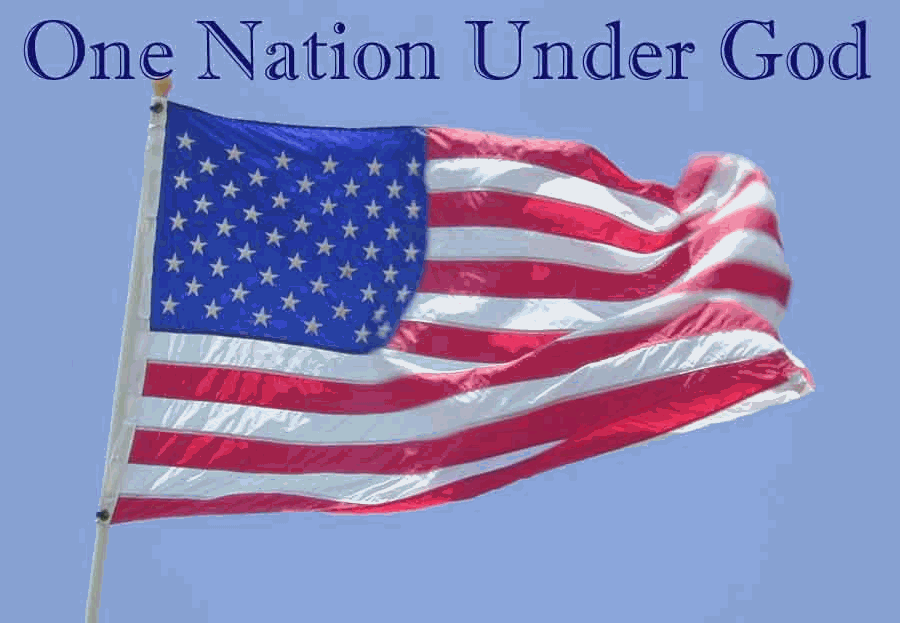 When I was in first grade we began each class day by reciting The Pledge of Allegiance. I would ask you to recite it with me this morning. (Please stand).
"I pledge allegiance to the Flag of the United States of America, and to the Republic, for which it stands; one nation, under God, indivisible, with liberty and justice for all."
In June of 1954 an amendment was made to the 1942 act of Congress establishing the Pledge of Allegiance in this Nation. Then President, Dwight David Eisenhower said this about adding "under God" to the pledge.
"In this way we are affirming the transcendence of religious faith in America's heritage and future; in this way we shall constantly strengthen those spiritual weapons which forever will be our country's most powerful resource in peace and war."
President Eisenhower recognized something that two judges on the Nineth Circuit Court of Appeals missed, that our heritage has been that we ARE ONE NATION UNDER GOD!
Our founding Fathers recognized the profound truth that our rights, yea our freedom comes from God. This is acknowledged in The Declaration of Independence…
"We hold these truths to be self-evident, that all men are created equal, that they are endowed by their Creator with certain unalienable Rights, that among these are Life, Liberty and the pursuit of Happiness."
Thrice more in The Declaration God is referenced! It says in the first paragraph, "the Laws of Nature and Nature's God." Then God is called "the Supreme Judge of the world. Finally, in the closing sentence it says, "And for the support of this Declaration, with a firm reliance on the protection of divine Providence, we mutually pledge to each other our Lives, our Fortunes and our sacred Honor."
Our Rights/Freedoms Do Come From God
God is the author of physical life. Genesis 2:7 "And the LORD God formed man of the dust of the ground, and breathed into his nostrils the breath of life; and man became a living soul."
God is the author of spiritual life. Ephesians 2:4-5 "But God, who is rich in mercy, for his great love wherewith he loved us, 5 Even when we were dead in sins, hath quickened us together with Christ, (by grace ye are saved;)"
Life, both physical and spiritual come from Almighty God.
The Bible says, "Except the LORD build the house, they labour in vain that build it: except the LORD keep the city, the watchman waketh but in vain." Psalms 127:1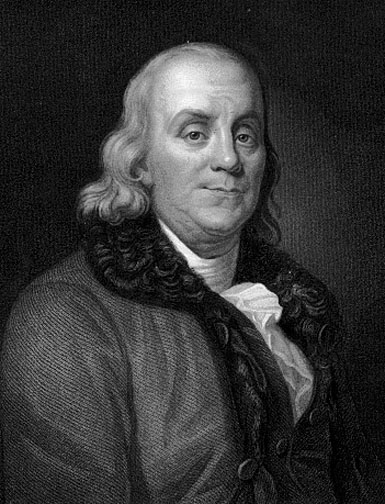 If fact, liberty is the reward of those who obey God and keep his commandments; it is not the product of the ingenious minds of men. Benjamin Franklin realized this. On June 28, 1787 a debate was raging in the Constitutional Congress concerning how each state would be represented in the new government. On that day, 81 year old Franklin make the following motion –
Mr. President:
The small progress we have made after 4 or 5 weeks close attendance & continual reasonings with each other - our different sentiments on almost every question, several of the last producing as many noes as ayes, is methinks a melancholy proof of the imperfection of the Human Understanding…
In this situation of this Assembly, groping as it were in the dark to find political truth, and scarce able to distinguish it when presented to us, how has it happened, Sir, that we have not hitherto once thought of humbly applying to the Father of lights to illuminate our understanding?
In the beginning of the Contest with G. Britain, when we were sensible of danger, we had daily prayer in this room for Divine protection. – Our prayers, Sir, were heard, & they were graciously answered. All of us who were engaged in the struggle must have observed frequent instances of Superintending Providence in our favor.
To that kind Providence we owe this happy opportunity of consulting in peace on the means of establishing our future national felicity. And have we now forgotten that powerful Friend? or do we imagine we no longer need His assistance?
I have lived, Sir, a long time, and the longer I live, the more convincing proofs I see of this truth - that God Governs in the affairs of men (see Daniel 4:17). And if a sparrow cannot fall to the ground without His notice (Matthew 10:29), is it probable that an empire can rise without His aid?
We have been assured, Sir, in the Sacred Writings, that "except the Lord build the House, they labor in vain that build it.(Psa 127:1)" I firmly believe this; and I also believe that without his concurring aid we shall succeed in this political building no better than the Builders of Babel: We shall be divided by our partial local interests; our projects will be confounded, and we ourselves shall become a reproach and bye word down to future ages (see Deut. 28:37)….
I therefore beg leave to move - that henceforth prayers imploring the assistance of Heaven, and its blessing on our deliberations, be held in this Assembly every morning before we proceed to business, and that one or more of the clergy of this city be requested to officiate in that service.
Liberty is the blessing of God and our founding fathers knew it! I dare say that is why George Washington took his oath of office, placing his hand upon Deuteronomy 28 (opened to that portion at his request).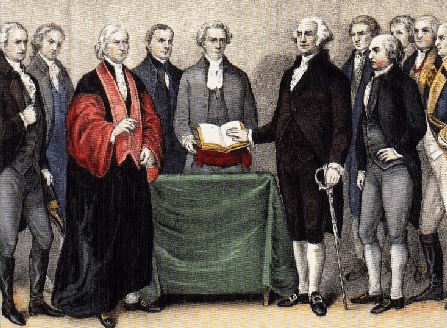 Deuteronomy 28:1, 13 & 15 says, "And it shall come to pass, if thou shalt hearken diligently unto the voice of the LORD thy God, to observe and to do all his commandments which I command thee this day, that the LORD thy God will set thee on high above all nations of the earth: 13 And the LORD shall make thee the head, and not the tail; and thou shalt be above only, and thou shalt not be beneath; if that thou hearken unto the commandments of the LORD thy God, which I command thee this day, to observe and to do them: 15 But it shall come to pass, if thou wilt not hearken unto the voice of the LORD thy God, to observe to do all his commandments and his statutes which I command thee this day; that all these curses shall come upon thee, and overtake thee:"
Liberty is the blessing of God! Now, let's move on the pursuit of…
Psalms 33:12 says, "Blessed is the nation whose God is the LORD…" Do you know what blessed means? The Hebrew word rva eh'-sher means happiness.
A nation will be happy when Jehovah is acknowledged and magnified in that nation. But what form will that happiness take? I would turn your attention to the first 14 verses of Deuteronomy 28 again. But also I would point you to Proverbs 29:2 "When the righteous are in authority, the people rejoice: but when the wicked beareth rule, the people mourn."
We have many unrighteous people in authority in our nation these days, among whom, in my opinion are Judges Goodwin and Reinhardt. They refuse to "Praise the Power that hath made and preserved us a nation" and no doubt would expunge our nation motto: "In God is our trust" as Francis Scott Key wrote in our National Anthem. I believe it is time to use every legal means to rid ourselves of men like them and pressure our legislators to appoint righteous people to positions of authority. I believe you should do your part so "one nation under God" is not just lip service.