Four Lessons We Can Learn From Mickey Mantle
Mickey Mantle was led to Christ by his former Yankee teammate
Lesson #1 Our Friends Have A Big Influence On Us
Lesson #2 Alcohol Is A Destructive Enemy Not A Friend
Lesson #3 The Law of Sowing & Reaping Is True
Lesson #4 God's Grace Is Within Reach of The Greatest Sinner
There are four things we can learn from Mickey Mantle's life
Mickey Mantle was led to Christ by his former Yankee teammate, Bobby Richardson, just before he past away.
How many of you know who said these words? "God gave me everything and I blew it. For the kids out there, don't be like me!"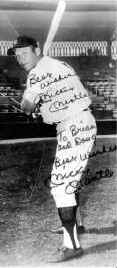 Let me give you a hint. It was a famous baseball player. He was a switch-hitting center fielder who played in 2,401 games for the New York Yankees from 1951 until 1968, won the Most Valuable Player award three times, hit a record 18 homers in 12 World Series and entered the Hall of Fame in 1974. In 1953 he slugged the longest home runs ever measured, 565 ft., off Chuck Stobbs of the Washington Senators, and in 1956 he won the rare Triple Crown (.353 batting average, 52 homers, 130 runs batted in). By now you probably know that I am talking about Mickey Mantle. He died a little more than a month ago (August 13, 1995). With that in mind, I'd like to share some thoughts with you about his life.
Back to the quote -- "God gave me everything and I blew it. For the kids out there, don't be like me!" Why would this Baseball Hall of Fame player say such a thing? Let me answer that question by referring to an article that I read by Mike Randall, Editor of The Baptist Bible Tribune. "Recent media reports tell the sad details of his life off the field: How teammates taught him to drink, carouse and be irresponsible. How liquor destroyed his marriage and crippled his family. How he taught his sons to drink until they, too, became alcoholics. How the bitter fruit of his lifestyle caused tremors, "and I should note, that his constant drinking was the cause of the liver disease and cancer that eventually took his life according to Doctors. The words of Steve Wulf in his Time Magazine article in the obituary section are sobering. "Though Mantle had been sober for more than a year, 42 years of drinking caught up to him on May 28, when he entered Baylor Medical complaining of stomach pains..." You know the rest of the story. A liver transplant followed, cancer was discovered, Mantle died August 13th of liver cancer.
The reason Mickey Mantle said, "God gave me everything and I blew it. For the kids out there, don't be like me!" is because, as he looked back on his life, he realized he was a poor role model and accomplished little of lasting value. He did not want kids to be like "the Mick."
I'm glad he recognized that and using this as a spring board, I want to consider Four Lessons We Can Learn From Mickey Mantle's Life.
The Bible readily warns us of the snare the wrong kind of friends can be. 19 year old rookie Mickey Mantle got hooked up with the wrong crowd and learned their evil ways.
Proverbs 13:20 He that walketh with wise men shall be wise: but a companion of fools shall be destroyed.
1 Corinthians 15:33 Be not deceived: evil communications (3657. homilia, hom-il-ee'-ah; meaning companions) corrupt good manners (2239. ethos, ay'-thos -- meaning moral habits).
Psalm 1:1-4
Proverbs 20:1 Wine is a mocker, strong drink is raging: and whosoever is deceived thereby is not wise.
Proverbs 23:29-35 Who hath woe? who hath sorrow? who hath contentions? who hath babbling? who hath wounds without cause? who hath redness of eyes? 30 They that tarry long at the wine; they that go to seek mixed wine. 31 Look not thou upon the wine when it is red, when it giveth his colour in the cup, when it moveth itself aright. 32 At the last it biteth like a serpent, and stingeth like an adder. 33 Thine eyes shall behold strange women, and thine heart shall utter perverse things. 34 Yea, thou shalt be as he that lieth down in the midst of the sea, or as he that lieth upon the top of a mast. 35 They have stricken me, shalt thou say, and I was not sick; they have beaten me, and I felt it not: when shall I awake? I will seek it yet again.
Mantle's constant and fatalistic drinking destroyed his marriage. It also corrupted his sons Mickey Jr., David, Danny and Billy and alienated them from him. In reality Mantle chose the bottle over his family.
Alcohol took its toll on his mind and body as well. Alcohol is no friend!
Galatians 6:7 Be not deceived; God is not mocked: for whatsoever a man soweth, that shall he also reap.
Numbers 32:23b ...be sure your sin will find you out.
Mantle, after decades of indulgence, came to recognize he was going nowhere. In the Time article of August 21 I read these words: "In his later years, mantle tried to atone for his sins, entering Betty Ford Center, freely admitting his alcoholism and making peace with his sons." But, it was a case of too little too late as far as the alcohol was concerned. Let me take you back to an earlier quote -- "Though Mantle had been sober for more than a year, 42 years of drinking caught up to him on May 28, when he entered Baylor Medical complaining of stomach pains..."
Friend, if you are sowing thorns and thistles in your life, STOP right now. REPENT! Through yourself on the mercies of the Lord Jesus Christ. Beg Him to give you beauty for ashes , the oil of joy for mourning, the garment of praise for the spirit of heaviness (Isa. 61:3). Cry out for Him, throw yourself on the mercies of the Lord and beseech Him restore the years that the locust have eaten (Joel 2:25).
But, be warned if you are hardened in your sin. Proverbs 29:1 says, He, that being often reproved hardeneth his neck, shall suddenly be destroyed, and that without remedy.
Lesson #4 God's Grace Is Within Reach of The Greatest Sinner
How many of you have ever heard Paul Harvey's The Rest of The Story? Let me tell you the rest of the story as written by Mike Randall.
"After he quit drinking, he was able to be brutally honest with himself and the world: in the process, although it has not been widely reported, he allowed former teammate Bobby Richardson to tell him of Jesus Christ and how he could be forgiven.
At Mantle's funeral, Richardson told the events of Mantle's conversion and how he questioned him about his assurance. When asked what he would answer when asked why God should let him into Heaven, Mantle replied, I'll just say, 'For God so loved the world that he gave his only begotten Son, that whosoever believeth in him, should not perish, but have everlasting life.' I am trusting Christ's death for me to take me to Heaven."
That's the right answer friends. That's the only answer!
Now, I know that some of you may raise your eye brows at a "death bed" confession of faith. Though it does not happen often and one can never be sure he will have the opportunity, there is one case of a death bed confession recorded in the Bible. Do you know where it is? Luke 23:39-43 records the account the repentant thief on the cross. Fundamentalist warrior J. C. Ryle has well said, "One thief was saved that no sinner might despair, but only one, that no sinner might presume."
Do you know Christ as your Savior? If not you should receive Him today!
Let me review.
There are four things we can learn from Mickey Mantle's life:
1) Our friends have a big influence on us
2) Alcohol is a destructive enemy and not a friend
3) The Law of sowing & reaping is true
4) God's grace is within the reach of the greatest sinner